Master your Physical Presence: Discover how to become more confident, enthusiastic and persuasive when delivering any type of presentation.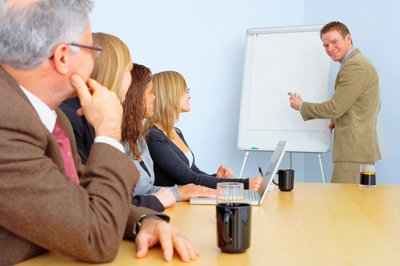 OVERVIEW
Whether you are a middle manager, senior executive, sales and marketing team member or customer-facing agent, you need to be more confident and capable and armed to deal with all real-life business presentation and communication situations. This program is suitable for nervous presenters and those with more experience. Learn how to avoid death by PowerPoint and deliver engaging presentations instead.
IS IT RIGHT FOR ME?
This highly-interactive workshop provides participants with the skills and principles of effective speaking skills in a corporate setting. It will show the ways to a clearer and more concise presenting, speaking, and communicating, paying attention to delivery and engagement, among others. Through real examples, participants will be shown some of the common mistakes in presentations. By the end of the workshop, participants should be able to apply what they learn and thus speak more confidently.
This course is aimed at those who wish to employ more effective speaking skills and confidence at work. This course is suitable for administrative or operations staff, assistants, executives, managers and secretarial staff.
WHAT WILL I LEARN?
Define a strategy for successful presentations;

Structure your presentation so the audience or learners can achieve required performance.

Incorporate techniques for the audience to acquire, store, and retrieve information;

Plan, develop, and deliver effective presentations;

Develop techniques to align your verbals, vocals, and visuals with your message;

Design compelling presentations through the principles of framing and storytelling;

Identify ways to gain an increase in confidence level;

Eliminate fears and negative fantasies using relaxation and isometric techniques.

What is a Presentation?

Common Problems: Fatal Five

The Three Most Wanted

The Science of Learning

Developing Your Presentation: The 4-P Principle

Five Key Techniques

Conscious Confidence

Handling Fears and Fantasies

The Art of Persuasion

Workshop! Workshop!

Meals Galore: AM and PM Snacks, Lunch

(only for public seminars)

Special Bay Hewitt Learning Kit

Certificate of Completion in a Hard-bound Holder - You'll never get this elsewhere! Keep your certificate forever in a premium material. See sample certificate HERE.

Unlimited LEARNING from our expert speaker/s

Unlimited consulting by email and helpdesk channels

Lively, dynamic, and professional expert facilitators, NOT boring and lifeless content speakers
If available for this program, access to complimentary eLearning modules via our eLearning site at http://elearniversity.bayhewitt.com/
30-60-90 days learning effectiveness tracking, monitoring, and support

BAY HEWITT PUBLIC LEARNING POLICY
Bay Hewitt reserves the right to cancel learning programs, workshops, seminars or conferences due to force majeure or Acts of God (i.e. severe weather conditions). In cases like this, the program will be re-scheduled to another date and time. We will make every effort to notify all registrants.

Bay Hewitt reserves the right to cancel learning programs, workshops, seminars or conferences due to unforeseen circumstances or for lack of participation or required headcount. We will make every effort to notify all registrants.

We require at least ten (10) participants to run each workshop; we encourage you to invite your colleagues at work, friends, and/or family members to meet this requirement.

For our full Bay Hewitt policy on public learning events, please visit: http://www.bayhewitt.com/2013/07/bay-hewitt-policy-on-public-learning.html
The above-described training program is available both as a custom in-house learning program and a publicly accessible seminar. To contact us how to exclusively run this program for you and your company or group and further customize the same to your organization's learning needs and requirements, please email us today at info@bayhewitt.com or call us at (02) 925-1229 in Manila or (032) 513-0988 in Cebu. Beyond Manila and Cebu City, w
e cover all other areas in the Philippines, including but not limited to Tagbilaran City in Bohol, other parts of Visayas like Iloilo, Bacolod, Dumaguete, Tacloban, Ormoc, or Samar. Covering Mindanao, we serve Cagayan de Oro and Davao, among other cities in the southern region. We travel a lot around the country and all over Asia Pacific to conduct our highly sought training offerings.
If you are interested to attend the same as a public seminar only, please see available public training schedules for Manila and Cebu below or visit
http://manilaseminars.bayhewitt.com and/or http://cebuseminars.bayhewitt.com.
CEBU